Flash Accessories Is Located At:

Call Flash Accessories: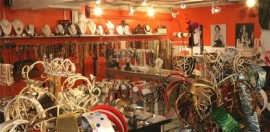 Flash Accessories At A Glance
We offer hip and trendy accessories.
Keywords
Flash Accessories is a hip and trendy accessories store in Birmingham. It offers some urban fun for every taste, from bangle bracelets, to chucky beaded necklaces to silky headbands. Head downstairs to Flash for some accessory flair.
Copyright © 2013 Matthews Software, Inc.